Reach Passive talent with Teamtailor
Let's talk passive talent. Why? It is the biggest talent pool that is:
very close at hand
often interested in new opportunities
not being pursued
With unemployment at an all-time low, this pool is growing rapidly. According to Undercover Recruiter, 69% of all working professionals are not looking for a job but are open to speaking about new opportunities or are starting to think about changing.
That's a massive amount of untouched talent waiting for the right opportunity but not quite ready to apply.
As of yet, the majority of companies don't offer an in-between step that caters to this target group 😐 Instead, all candidates – regardless of interest level – are required to submit an application. So, passive candidates stay passive; it's not worth their time since they're happy at their current employer.
69% of all working professionals are not looking for a job but are open to speaking about new opportunities or are starting to think about changing.
These five ways effectively target that grey zone and convert passive talent into active candidates through Teamtailor.
1. Create a career site that caters to passive talent with "Connect"
This means your current job openings are available to browse, but if a candidate doesn't find a fitting opportunity, they can connect with a department and/or role. That way, whenever you publish a role within the department that a candidate has connected with, they will automatically get an email, letting them know about the new and relevant opening.
2. Employee referrals are a safe bet

Every person you currently work with is connected with an entire network of people based on previous workplaces, friends, and connections from who-knows-where. Chances are, if you like your employees, you'll like the people they know.

Add our "referral" feature at the bottom of your career page – this allows employees to auto-join and refer someone with a few simple clicks. The referral is directly registered into the relevant job and keeps track of which employee referred a candidate, in case you have an incentive scheme (a good idea!).
3. Switch it up: Lead pages instead of Job ads
Spark curiosity, stand out, and increase the amount of contact with interested passive talent by posting a Lead page for a difficult-to-fill position.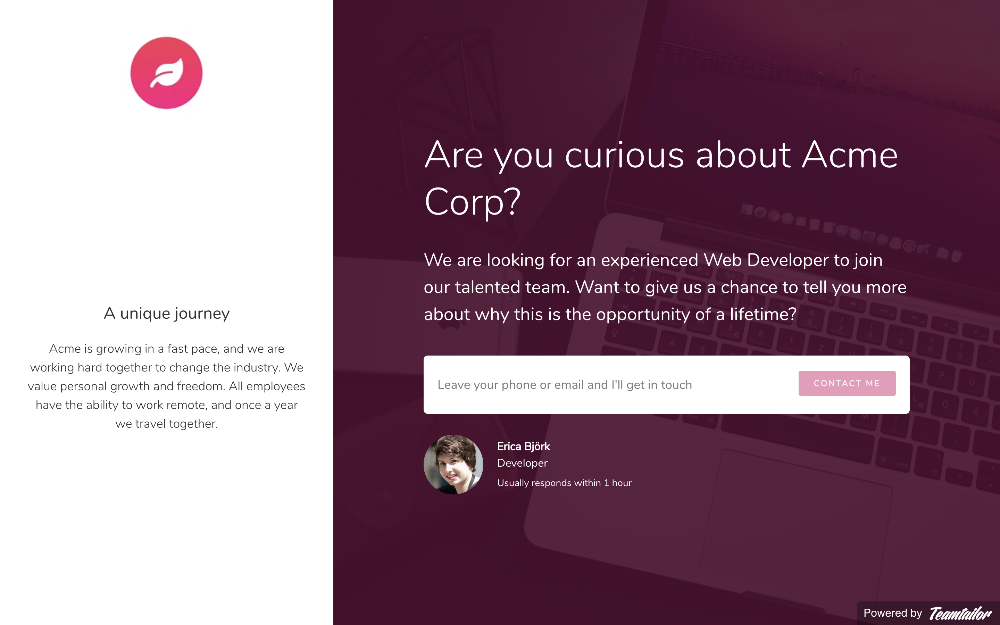 This is a brand new way of thinking about passive talent, specifically targeting our beloved 69%. Instead of having candidates apply to a role, they simply leave their contact details if they're interested. This opens the door to talk about the role and lowers the threshold to connect.
4. Add a candidate chat to your job ad 💬
This allows passive candidates who aren't ready to apply to ask a few questions. Now, you've just started a relationship with someone who's browsing and inquisitive 👀 Then, nurture that relationship. Add a candidate chat here.
5. Drive traffic through social media
Targeting candidates during their time-off is an effective way to gain attention – relaxed and open, odds are they'll check out your ad.
Now your company is top of mind, and they may start browsing similar job openings on your career page, now or in the future.
Set this up directly through Teamtailor to skip the hassle of working with individual providers. All social media traffic is controlled and analyzed in one place.
There are plenty of strategies to help you get closer to passive candidates. But remember, none of these work if the candidate's time isn't respected. Listen closely, follow up quickly, and be transparent. That will make the biggest difference of all 👊